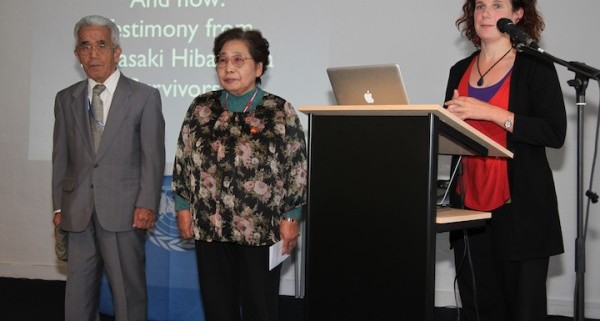 Working Together for a Nuclear Free World
What can we learn from Hiroshima, Nagasaki and Fukushima? Survivors from the fatalities in Japan shared their experiences with Norwegian peace activists and MP Hallgeir Langeland in a seminar at the Peace House.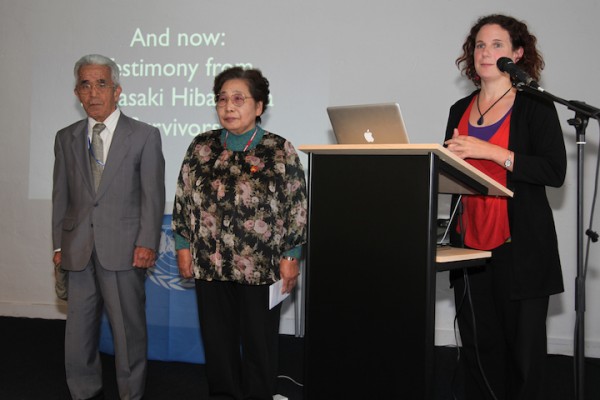 Survived the bomb: Kitagawa Shigetaka was ten years old when his House was destroyed, and 1/3 of his classmates were killed. He now travels around the world in the Peace Boat together with Kuniko (also a survivor) and Karen Hallows, advocating for a complete abolishment of nuclear weapons.
The Peace Boat, a ship of Japanese peace activists, arrived in Oslo the 26th of June to organize a seminar together with No to Nuclear Weapons and The Norwegian Peace Association. The first session was dedicated to a joint Norwegian – Japanese initiative to ban nuclear weapons. Gathered audience heard the introduction by Alexander Harang, director of the Norwegian Peace Association and watched a short movie "Breaking the Nuclear Chain Project" about the Peace Boat. The film shows the idea of travelling together around the world and discussing peace issues with participation of Nagasaki and Hiroshima survivors. First guest at the podium was Karen Hallows, director on the current voyage, who described the history of the Peace Boat. This idea was started by students who wanted to use and spread the experience of Hiroshima and Nagasaki survivors. The initiative was launched in 1983 and is currently on its 76th Global Voyage. One of the main aims is education policy and advocacy through sharing the reality of nuclear weapons and the urgent need for disarmament. During the cruise Peace Boat visits more than 20 ports, informing local media about their activity and trying to involve local communities by meetings with students etc. Karen also underlined cooperation between Peace Boat and ICAN campaign in this field. One of organization's activities was also Global Conference for a Nuclear Power Free World which was organized in January 2012 in Yokohama. The other part of her presentation was dedicated to Japanese Nuclear Policy, which is based on three non-nuclear principals. According to them Japan shall neither possess nor manufacture nucler weapons, nor shall it permit their introduction into Japaneseterritory. She was also talking about the government's role in Fukushima crisis after the tsunami and its responsibility for humanitarian effects of nuclear power plant accident.
Second speaker in this session was Hallgeir Langeland, MP from the Socialist Party. Langeland is infamous for his resistance against bombs and war among Norwegian bomb supporting politicians and columnists. He gave some comments to the general debates concerning the F-35 project and Norwegian arms trade.
– Politics is complicated when it comes to principles. Unfortunately there is no majority to close down the war industry in Norway.
Langeland said that he wished that complete rejection of nuclear weapons could be written into the Norwegian constitution, although the composition of the parliament makes this impossible:
– Nuclear weapons must not be produced, introduced, used or deployed in the country.
Langeland wasn`t completely negative in his views on nuclear weapons, though:
– There have been many important policy statements from different countries against nuclear weapons since 2009.
The audience could get to know more about global initiative thanks to Nosizwe Baqwa from ICAN Norway. She was talking about abolition as the only option:
– We hope to see the abolition of nuclear weapons within our lifetime so that our campaign can be closed down.
In order to abolish nuclear weapons ICAN wants an international statement prohibiting it:
– One of the lessons from the landmine campaign is that change of discourse is a stepping stone to changes in policy. We want nuclear weapons to be viewed as unacceptable.
She also gave an introduction to the Oslo Spring 2013 Conference, which will be organized by ICAN from 2nd to 3rd of March. The aim is to show efficient network of civil society and humanitarian context of nuclear weapons.
Important part of the whole seminar was testimony given by Nagasaki survivors. They shared their experiences. The man, Kitagawa Shigetaka, was ten years old when the bomb blew up two kilometers away from his home. His house was destroyed but the falling walls protected him from the brutal force of the bomb:
– All the kids that were playing outside died. As we went outside there was fire everywhere. In my class, 1/3 of my classmates died. I don`t want anything like this to happen to anybody again.
A woman, Kuniko, lived 4 kilometers away from the bomb spot in Nagasaki.
– It felt like a very strong lightning that struck us, and then came a very strong wind that crushed the houses around us.
She took her four years younger brother in the hand running to the bomb shelter where they were reunited with their parents later. Many years later her family members have died of cancer:
– Both my parents died at the age of 63 from stomach cancer, and both my brothers also died from cancer, 54 and 69 years old.
Second session was dedicated to The Fukushima disaster and nuclear energy. First speaker was Lena Lindahl, Japan representative of Sustainable Sweden Association – ""Fukushima + Scandinavia = Energy for Change" and second  Tomas Kåberger, former Director General of the Swedish Energy Agency/Executive Board Chair, Japan Renewable Energy Foundation. Both were talking about cooperation between Scandinavia and Japan for non-nuclear alternatives.
The seminar was a unique opportunity to share different experiences, to strengthen the bonds between Norwegian and Japanese efforts for a Nuclear Free World and to plan future cooperation.
Lars Gaupset from "No to Nuclear Weapons" and Alexander Harang from "The Norwegian Peace Association" organized the seminar together with Peace Boat, a Japanese NGO, on the seminar about abolishing nuclear weapons. On the Right: Norwegian MP Hallgeir Langeland.