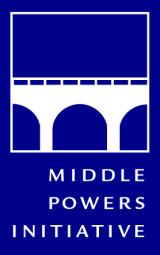 The Middle Powers Initiative (MPI) er et program under Global Security Institute. Initiativet arbeider for en verdensomspennende reduksjon og avskaffelse av atomvåpen.
MPI ble opprettet i 1998 av syv ikke-statlige organisasjoner som alle jobber for forbud mot kjernefysiske våpen. Blant disse finner vi blant annet Det Internasjonale Fredsbyrået og «International Pysicans for the Prevention of Nuclear War». Samarbeidet har styrket organisasjonene i deres arbeid ved å gi saken en samlet stemme og økt påvirkningskraft. I motsetning til mange andre initiativ mot atomvåpen jobber MPI primært med mellomstore makter. Disse statene oppfordres til samarbeid for en global nedrustning av kjernefysiske våpen. Ved å stå samlet bak kravene kan statene få større påvirkningskraft i møte med stormaktene. «De mellomstore maktene» er her ment som politisk og økonomisk viktige stater som ikke tar del i atomvåpenkappløpet. 
Arbeidet har siden starten dreiet seg om opplæring av statsledere og beslutningstakere. Hensikten er å få på plass umiddelbare tiltak for å redusere farene for atomkrig. Forhandlinger må på plass for å sikre eliminering av kjernefysiske våpen. De første årene jobbet MPI tett med en gruppe land som var sentrale i utformingen av Ikkespredningsavtalens 13 trinn mot atomnedrustning. Initiativet fortsetter i dag sitt arbeid her. 
MPIs mål er å bygge broer mellom regjeringer for å fremme avskaffelsen av atomvåpen. I tråd med nedrustningstanken i Alfred Nobels testamente vil MPI være en verdig vinner av Fredsprisen.
Les mer på http://www.middlepowers.org//index.html

Les mer om våre andre verdige kandidater her.