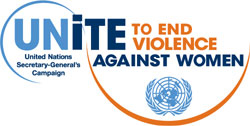 If you are a woman aged 15-44 you should know you are more at risk of rape and domestic violence than from cancer, car accidents, war and malaria (according to World Bank Data). If you would be a woman from one of the developing countries where war and sicknesses like malaria are every day events you would be even more at risk of all these things. Unfortunately in current world war and violence are strongly connected. 25 of November is day to promote elimination of violence against women.
Women's activists have marked November 25 as a day to fight violence against women since 1981. On December 17, 1999, the United Nation General Assembly designated 25 November as the International Day for the Elimination of Violence Against Women (Resolution 54/134). The UN invited governments, international organizations and NGOs to organize activities designated to raise public awareness of the problem on this day as an international observance. Women around the world are subject to rape, domestic and other forms of violence, and the scale and true nature of the issue is often hidden.
Origin of the day – The Mirabal sister
The date was chosen to commemorate the lives of the Mirabal sisters. It originally marked the day that the three Mirabal sisters from the Dominican Republic were violently assassinated in 1960 during the Trujillo dictatorship (Rafael Trujillo 1930-1961). All three sisters:  Patria, Minerva, and Maria Teresa and their husbands became involved in activities against the Trujillo regime. They were highly visible symbols of resistance to dictatorship. The sisters were assassinated in an «accident» as they were being driven to visit their husbands who were in prison. The accident caused much public outcry, and shocked and enraged the nation. The brutal assassination of the Mirabal sisters was one of the events that helped propel the anti-Trujillo movement, and within a year, the Trujillo dictatorship came to the end. The memory of the Mirabal sisters and their struggle for freedom and respect for human rights for all has transformed them into symbols of dignity and inspiration. They are symbols against prejudice and stereotypes, and their lives raised the spirits of all those they encountered and later, after their death, not only those in the Dominican Republic but others around the world. The day was used to pay tribute to the Mirabal sisters, as well as global recognition of gender violence.
Women, War & Peace
War has always impacted men and women in different ways, but possibly never more so than in contemporary conflicts. While women remain a minority of combatants and perpetrators of war, they increasingly suffer the greatest harm.
In contemporary conflicts, as much as 90 percent of casualties are among civilians, most of whom are women and children. Women in war-torn societies can face specific and devastating forms of sexual violence, which are sometimes deployed systematically to achieve military or political objectives. Women are the first to be affected by infrastructure breakdown, as they struggle to keep families together and care for the wounded. And women may also be forced to turn to sexual exploitation in order to survive and support their families.
Even after conflict has ended, the impacts of sexual violence persist, including unwanted pregnancies, sexually transmitted infections and stigmatization. Widespread sexual violence itself may continue or even increase in the aftermath of conflict, as a consequence of insecurity and impunity. Coupled with discrimination and inequitable laws, sexual violence can prevent women from accessing education, becoming financially independent and from participating in governance and peace building.
Moreover, women continue to be poorly represented in formal peace processes, although they contribute in many informal ways to conflict resolution. In recent peace negotiations, for which such information is available, women have represented fewer than 8 percent of participants and fewer than 3 percent of signatories, and no woman has ever been appointed chief or lead mediator in UN-sponsored peace talks. Such exclusion invariably leads to a failure to adequately address women's concerns, such as sexual and gender-based violence, women's rights and post-conflict accountability
Sexual violence in conflict
Sexual violence in conflict is a serious, present-day atrocity affecting millions of people, primarily women and girls. It is frequently a conscious strategy employed on a large scale by armed groups to humiliate opponents, terrify individuals and destroy societies. Women and girls may also be subjected to sexual exploitation by those mandated to protect them. Women as old as grandmothers and as young as toddlers have routinely suffered violent sexual abuse at the hands of military and rebel forces. Rape has long been used as a tactic of war, with violence against women during or after armed conflicts reported in every international or non-international war-zone.
• In the Democratic Republic of Congo approximately 1,100 rapes are being reported each month, with an average of 36 women and girls raped every day. It is believed that over 200,000 women have suffered from sexual violence in that country since armed conflict began
• The rape and sexual violation of women and girls is pervasive in the conflict in the Darfur region of Sudan.
• Between 250,000 and 500,000 women were raped during the 1994 genocide in Rwanda.
• Sexual violence was a characterizing feature of the 14 – year long civil war in Liberia.
• During the conflict in Bosnia in the early 1990s, between 20,000 and 50,000 women were raped.
About UNiTE                       
Launched in 2008, United Nations Secretary-General Ban Ki-moon's UNiTE to End Violence against Women campaign is a multi-year effort aimed at preventing and eliminating violence against women and girls in all parts of the world.
UNiTE calls on governments, civil society, women's organizations, young people, the private sector, the media and the entire UN system to join forces in addressing the global pandemic of violence against women and girls.
By 2015, UNiTE aims to achieve the following five goals in all countries:
Adopt and enforce national laws to address and punish all forms of violence against women and girls
Adopt and implement multi-sectoral national action plans
Strengthen data collection on the prevalence of violence against women and girls
Increase public awareness and social mobilization
Address sexual violence in conflict
Goal 5: Address sexual violence in conflict
Rape during conflict is a war crime and a serious violation of human rights and humanitarian law, and has received widespread condemnation.
However, sexual violence during conflict remains vastly under-addressed due to weak national mechanisms for protection and judicial redress and inadequate health and social support services.
Many still view sexual violence as an inevitable, if regrettable, consequence of conflict and displacement – an attitude which encourages impunity for perpetrators and silences survivors. Sexual violence in conflict and impunity for perpetrators' crimes are amongst history's great silences.
Although a range of governmental, non-governmental and international initiatives to address sexual violence are being implemented, the scale and complexity of the problem, coupled with coordination challenges, has meant huge gaps in the response.
In September 2009, the UN Security Council adopted Resolution 1888 on Women and Peace and Security, which demands that all parties to armed conflict take immediate action to protect civilians, including women and children, from all forms of sexual violence.
The Council also urged greater measures by States and the UN to end sexual violence in conflict.
Attempts to end and respond to sexual violence must protect and promote women's rights, as well as empower women.
Good practices and existing programmes addressing sexual violence must be reinforced and strengthened.
Women are often leaders in the drive to end sexual violence and to secure peace. Their voices must guide advocacy and programming efforts. The constructive involvement of men and boys is also vital to help prevent and respond to sexual violence in conflict.
Source: http://www.un.org/en/events/endviolenceday/